What is a Facebook Supporter/Subscriber?
What do I get for being a Facebook Supporter/Subscriber?

$25 Off any Box Break every month!

Access to a private Facebook group!

Behind the scenes insight and access!

Automatically entered into monthly giveaways!

Sweet badge for your profile on our page!
How do I become a Facebook Supporter?

Where is the private Facebook group?
Where can I find the monthly discount code?
The discount code is always pinned to a post at the top of the group!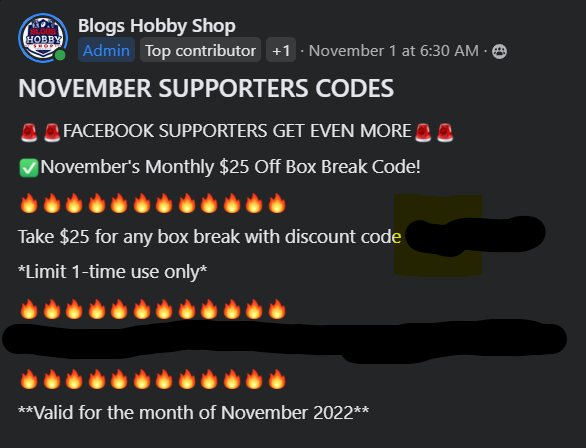 Group Post
Related Articles

How will I be notified of Box Breaks?

Box Break Notifications How to be notified when box breaks are live: Check our website around 9PM CST to see if a break is sold out or close to being sold out. If it is sold out, it will be live that night! Check our Facebook Page for news and alerts ...

What is a Box Break?

All the Things you need to know about what box breaking means and more! What is a Box Break? ​- A box break is where a few boxes are collectively opened at one point of time. During that time the customers that have bought into that break will get ...